Math Function Mania
Makes learning algebra and functions fun!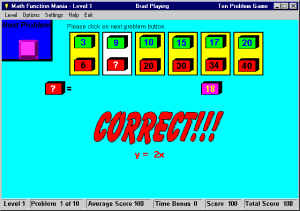 View: Description | Features | Awards | Reviews | Download | Purchase
Game Description
Math Function Mania is a fun multimedia game for grades 7-12 that teaches functions, algebra and problem solving skills. You must first detect which function is being used, and then solve it by clicking on the correct answer.
Full description
Screen Shots

Game Features
Makes learning algebra fun!
Has a virtually unlimited number of problems.
Multiple levels ensure continued challenge.
Awards
A ZDNet's Editors' Pick!
Rated 5 stars in 4 out of 7 categories by Shareware Junkies!
Reviews
Les Jensen, Computer Specialist, Roy Elementary, Roy, Utah:
"I think it is excellent for students learning algebra."


Zonia Heath, professional reviewer from Shareware Junkies:
"This program would definitely help improve your math skills and your math scores when you take the SAT."


Alan Altmann, Head of the Mathematics dept. at Brauer College, Caramut Rd, Warrnambool, Vic., Australia, 3280
"The students enjoyed playing the program and it appears to be a good way for students to practice their basic algebraic skills while enjoying themselves. I plan to use the program to reinforce algebraic skills and to provide pleasurable breaks from normal algebraic practice; probably at years 7 to 10."
Purchase
Get the registration key to unlock the shareware version of Math Function Mania and the download information for the other nine registered programs.*
*You must download the shareware version of Math Function Mania to use this purchase method.
To purchase by credit card using a toll-free number, dial 1-800-999-2734, and ask for Product #7702.
| | |
| --- | --- |
| | Get a CD-ROM via postal delivery containing the registered version of Math Function Mania and the other nine registered programs. |
To purchase by credit card using a toll-free number, dial 1-800-999-2734, and ask for Product #7703.
Send a check payable to Sheppard Software to:
Sheppard Software
Suite 623, Pavilion
Jenkintown, PA 19046