SAT GRE Crash Course
Ace the verbal sections of your SAT or GRE exam.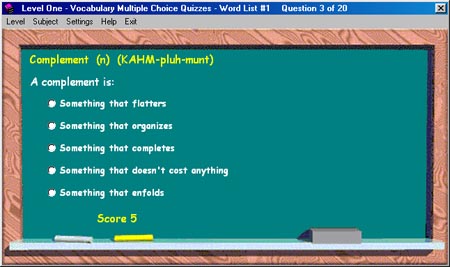 View: Description | Features | Awards | Reviews | Download | Purchase
Game Description
SAT GRE Crash Course teaches 840 frequently appearing SAT and GRE words. It features a study level and five different learning levels. The five learning levels allow the student to attack the words from different angles allowing more complete learning. A special "Crash Course" rapid learning plan is also included.
Full description
Screen Shots

Game Features
Teaches 840 frequently used SAT and GRE words
Includes a "Crash Course" for rapid learning
Enables deeper learning with five different levels
Features a rapid-fire game
Allows students to concentrate on words they don't know
Includes best vocabulary learning and test taking tips
Awards
A Four-Emoticon Rating from Rocket Download! A ZDNet's Editors' Pick!
Reviews
Rocket Download
Four-emoticon rating
Click here for Rocket Download review...


ZDNet
A ZDNet's Editors' Pick!
Click here for ZDNet review...


Thomas Greenslade:
You asked me to review your new software. You did such a comprehensible job it's hard to be critical.I would definitely buy it and use it.It's formated for ease of use (read-speed) and totally supportive.


Patti Golden:
This game is very learning intensive. It is quite thorough in immersing the student in the vocabulary words and definitions. By approaching the task from so many different directions, the student should come out with a thorough knowledge of these words. Also, the scoring should give them a sense of confidence to do better on the actual test than they would have otherwise.


Mary Brewer:
I have tried the program and found it excellent. It covers more than I expected. I had no problems with it at all.


Purchase
Get the registration key to unlock the shareware version of SAT GRE Crash Course and the download information for the other nine registered programs.*
*You must download the shareware version of SAT GRE Crash Course to use this purchase method.
To purchase by credit card using a toll-free number, dial 1-800-999-2734, and ask for Product #7959.
| | |
| --- | --- |
| | Get a CD-ROM via postal delivery containing the registered version of SAT GRE Crash Course and the other nine registered programs. |
To purchase by credit card using a toll-free number, dial 1-800-999-2734, and ask for Product #7965.
Send a check payable to Sheppard Software to:
Sheppard Software
Suite 623, Pavilion
Jenkintown, PA 19046